Maximize Video Value By Visualizing The Lead Generation Ecosystem [infographic]
|
There's more — much more — to online lead generation than meets the eye. Many companies experience poor (or nonexistent) results in their PPC, SEO, email and social media marketing campaigns because vital pieces of the process are missing.
We at the chicago search engine optimization company, Straight North created the Internet Marketing Lead Generation Ecosystem infographic (see below) so marketers could visualize the entire process and make sure everything is in place to squeeze as many high value leads as possible out of their marketing investment.
How To Get More And Better Leads From Your Videos
Video marketing is one type of content that can be published on the company website to draw online leads, but because video is comparatively expensive and time-consuming to produce, it is important for companies to connect web video marketing to the lead generation ecosystem rather than just throw videos on the website and wait to see what happens. Specific areas of the infographic below that internet video marketing experts should consider include:
Analytics and Reporting (left of the website hexagon). Can leads driven by online video views be tracked back to their Internet marketing campaign source? Knowing which campaigns are generating video leads enables you to put more emphasis on them and run effective conversion optimization tests on video Web pages.
Form Submissions and Phone Calls (below the website hexagon). Do your video Web pages have inquiry forms embedded in them or prominently linked from them? Do these pages display the phone number prominently, and, in mobile view, have a click-to-call phone icon? The easier it is for users to inquire after viewing the video, the better.
Note in the second row of hexagons there are eight options for Internet marketing campaigns. Avoid the temptation to throw video into the virtual market using a scattergun. Rather than haphazardly run PPC campaigns, dabble in video SEO or send out halfhearted email blasts featuring video, concentrate efforts on those campaign options that hold the greatest potential or have the best history of performance. Few organizations have the resources to manage several lead generation campaigns with the breadth and depth necessary to attract a dial-moving number of leads.
Internet Marketing Lead Generation Ecosystem [infographic]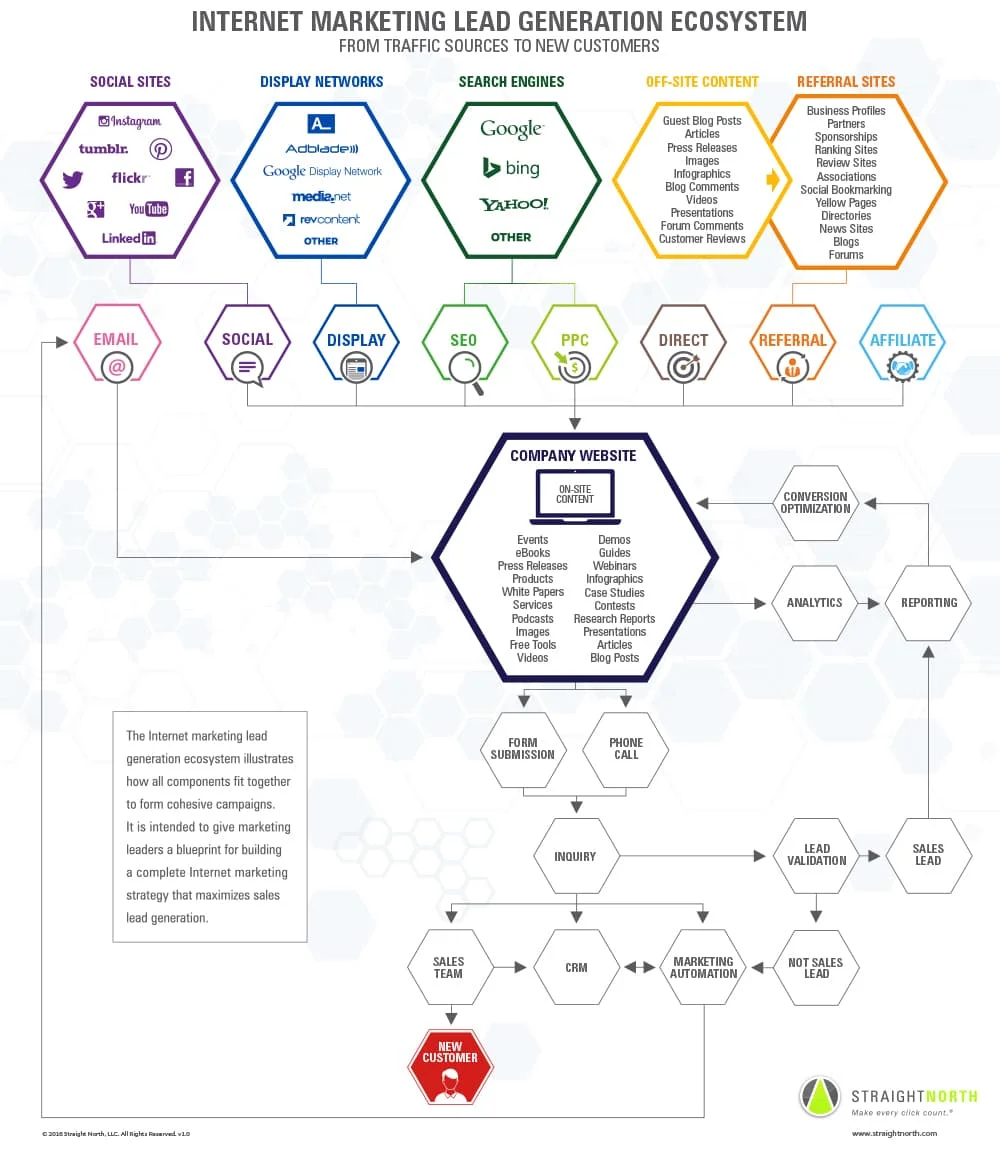 Brad Shorr is Director of Content Strategy at Straight North. Brad specializes in digital content and online video marketing, email marketing, lead generation, social media marketing, SEO services, Web design, Web development, and PPC management.